All About Miniletics
The Psychology of Colors Pt. 2: Warna Pengaruhi Mood Kita?
by Support Miniletics on Jan 23, 2022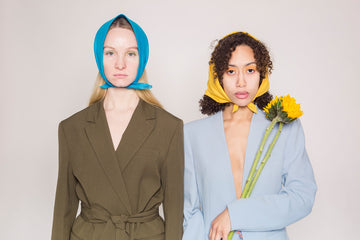 Hai, minimates!
Sebelumnya kita sudah sempat membahas tentang pentingnya warna dalam kehidupan kita, sekarang waktunya untuk membedah macam-macam warna dan kesan serta emosi yang mereka berikan. 
Gimana sih, caranya menemukan warna yang cocok buat kita? Kamu bisa mulai dengan belajar soal warna dingin, hangat, muted, serta cerah. Setelah seenggaknya tahu dasarnya, kamu bisa mulai bereksperimen dengan warna-warna itu. Meskipun psikologi warna nggak bisa sepenuhnya dikatakan akurat, tapi hal ini bisa digunakan sebagai langkah awal yang bagus untuk mengenali warna dalam diri kita. 
Hijau dan biru, atau sering disebut sebagai warna dingin, dapat membantu mencapai rasa tenang, sedangkan merah, oranye, dan kuning, yang masuk ke dalam spektrum warna hangat, dapat meningkatkan suasana hati kamu. Masing-masing warna ini memiliki arti yang berbeda ketika dipisahkan menjadi shade yang berbeda. Warna yang lebih kalem atau terang dapat mengundang perspektif yang lebih tenang dan lembut, sementara warna yang lebih berani dapat mengeluarkan lebih banyak energi di lingkungan atau diri kamu sendiri.
Sekarang, lihatlah lemari pakaianmu dan perhatikan emosi yang muncul tiap kali warna tertentu muncul. Kamu juga bisa bereksperimen dengan berbagai aktivitas juga. Lewat trial and error, kamu bisa menemukan kombinasi yang tepat untuk suasana hati kamu. 
Nah, seperti dikutip dari The Good Trade, di bawah ini minimin kasih contekan yang bisa membantu kamu menemukan warna yang cocok untuk kamu pakai di kesempatan tertentu: 
Merah

- anger, love, passion, and power 

Kamu bisa memakai warna merah ketika ingin merasa lebih berani. Merah bisa membuat kamu lebih stand out. Cocok banget kamu gunakan untuk kencan pertama jika kamu ingin memberikan kesan yang kuat. Karena warna ini terkesan berapi-api, merah juga bisa menjadi pakaian yang bagus digunakan ketika kamu ingin berjuang atas sesuatu yang kamu sukai. 
Oranye

- enthusiasm, attention, happiness, and energy

Oranye cocok banget dipakai ketika kamu ingin menjadi seorang social butterfly. Karena energi yang dihasilkannya, banyak yang menyarankan untuk memakai warna oranye ketika sedang berolahraga atau sedang berpartisipasi dalam komunitas aktivitas fisik. 
Kuning

- brightness, energy, warmth, and attention

Kenakan warna kuning saat kamu ingin merasa gembira. Susah untuk merasa sedih ketika dikelilingi oleh warna yang bersinar ini, itulah sebabnya kita sering mengaitkan warna ini dengan musim semi dan musim panas. Kuning adalah warna yang sempurna kalau kamu butuh penyemangat. 
Hijau

- luck, envy, nature, and safety 

Kenakan warna hijau saat kamu ingin grounding. Hijau bisa menjadi warna yang memberi kesan mudah didekati dan sangat ideal dipakai ketika bertemu orang baru. Hijau juga merupakan warna yang bagus saat kamu ingin memulai proyek atau memulai babak baru dalam hidup.
Biru

- sadness, stability, productivity, and calmness 

Kamu bisa mengenakan warna biru untuk menambah kepercayaan diri. Warna ini memiliki kemampuan untuk meredakan kecemasan, menjadikannya warna yang sangat baik untuk presentasi kerja atau sekolah. Biru juga bisa menjadi warna yang menenangkan dalam situasi stres.

Dari lima warna di atas, mana nih yang cocok banget sama kepribadian minimates? Ada warna favorit minimates nggak? Next up minimin akan kasih info lagi mengenai warna-warna lain yang belum sempat dibahas di sini. So stay tuned, ya!

Featured image by Michelle Leman from Pexels