All About Miniletics
12.12 miniletics' Biggest Sale of The Year is HERE, These are Everything You Need to Know!
by Support Miniletics on Dec 05, 2022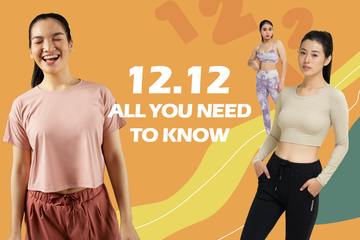 12.12 MINILETICS' BIGGEST SALE OF THE YEAR IS FINALLY ON YOUR DOORSTEP! 
Tahun 2022 tinggal sebulan lagi berakhir. Selama 11 bulan terakhir, kita pasti sudah menemukan dan mengalami begitu banyak hal hingga progress masing-masing. Sebelum 2022 berakhir, ada baiknya kita intropeksi sejenak dan secara perlahan menjadi versi diri kita yang paling percaya diri. 
Untuk menemani dan membantu minimates jadi merasa lebih percaya diri, miniletics mengadakan event terakhir paling spesial di tahun ini, 12.12 miniletics' Biggest Sale of the Year dengan begitu banyak best and biggest deals! Kamu berkesempatan buat dapat produk berkualitas dengan harga yang murah meriah! Jangan mau ketinggalan info seputar produk dan diskon yang melimpah, subscribe di sini!
12.12 miniletics' Biggest Sale of the Year
12.12 miniletics' Biggest Sale of the Year jadi salah satu event sale terbesar sepanjang tahun 2022 yang diadakan miniletics. Kita ingin menemani dan membantu kamu untuk mencapai dirimu yang paling percaya diri sebelum 2022 berakhir dengan diskon yang gila-gilaan.
Tapi sebelumnya, kalian penasaran nggak sih apa saja yang bakal ada di 12.12 miniletics' Biggest Sale of the Year? 
Kalian bisa menikmati diskon besar-besaran hingga 60%, plus 12% extra untuk SEMUA PRODUK! Kamu akan mendapatkan diskon tambahan secara otomatis sebesar 10+12% setiap melakukan purchase lewat webstore dengan minimal pembelanjaan 500k tanpa maksimal diskon. Untuk purchase lewat marketplace, kamu bisa mendapatkan diskon sebesar 10% dengan minimal pembelanjaan 500k dengan maksimal diskon 100k.  Event ini akan berlangsung selama 12 hari mulai tanggal 1 Desember 2022 pukul 00.00 WIB. 
Karena produk miniletics memang cepat sold out dan ditambah diskon besar-besaran, jadi pastikan produk dan size yang kalian pilih tepat karena NO EXCHANGE.
Nggak perlu banyak mikir lagi, sekarang saatnya kamu mempersiapkan diri dan jempol untuk memasukkan barang-barang incaran kamu ke keranjang sebelum kehabisan! Agar persiapan kamu lebih matang, silakan membaca selengkapnya di artikel FAQ ya, minimates! 
YOUR 12.12 MINILETICS' BIGGEST SALE SNEAK PEEK 
It's that one year-end event that will blow your mind …
Promo akhir tahun memang jadi momen yang paling kita tunggu karena nggak cuman diskonnya yang besar-besaran, tapi juga kesempatan mendapatkan lebih banyak best deals juga besar. Event 12.12 miniletics' Biggest Sale kali ini bisa jadi kesempatan kamu untuk melengkapi athleisure wardrobe dengan produk-produk top notch yang tentunya lagi on their biggest sale! And you are so ready to feel your most confident self! Event ini juga bisa jadi saat yang tepat untuk berburu kado Natal untuk orang-orang terdekatmu lho, minimates! 
Preparing your wishlist and gifts for everyone? We've got you covered with this one!
Tapi masih bingung nih min mau beli apa aja! Tenang, minimates. Di artikel ini minimin juga akan memberikan dream wishlist produk-produk favorit yang sedang sale agar kamu nggak bingung lagi mau check out yang mana saja. Kamu bisa langsung memasukkannya ke keranjangmu sebelum event-nya dimulai agar kamu nggak ketinggalan. 
Mulai dari sports bra berkualitas, leggings yang super nyaman, hingga seamless underwear yang anti bumpy, ini dia beberapa rekomendasi produk on sale yang bisa kamu check out saat event 12.12 miniletics' Biggest Sale berlangsung. 
THE BEST DEALS: SPORT BRAS & TOPS
Sports bra selalu jadi staple item untuk digunakan saat olahraga karena bisa memberikan support yang cukup dan melindungi payudara dari gesekan dan guncangan yang bisa bikin kamu nggak nyaman. 
Kamu bisa memilih tipe support: high, medium, ataupun light support, sesuai kegiatan yang kita lakukan. Kamu juga bisa memilih style sports bra yang sesuai dengan bentuk serta ukuran payudaramu. Mulai dari spaghetti strap hingga longline design, miniletics punya banyak tipe sports bra yang bisa kamu masukkan wishlist saat event 12.12 miniletics' Biggest Sale.
Nggak cuman sports bra, atasan juga jadi bagian penting dalam melengkapi penampilanmu selama berolahraga. Kamu bisa memilih t-shirt ataupun tank sesuai preferensi kamu. 
THE BEST DEALS: BOTTOMS
Inilah waktu yang paling tepat untuk melengkapi koleksi shorts dan pants kamu, minimates! Dengan berbagai jenis fabric yang breathable dan sweat-wicking, nggak akan ada lagi drama bawahan bau dan lembab sehingga kamu tetap nyaman meski berkeringat banyak. 
THE BEST DEALS: ACCESSORIES 
Meski kecil dan terlihat sepele, accessories semacam headband akan sangat membantu kamu memiliki pengalaman olahraga yang paling nyaman. Mumpung diskon besar-besaran, kamu bisa invest lebih ke accessories yang akan menyelamatkan kamu dari gangguan kecil yang bisa jadi memengaruhi performa kamu. 
[closing] DON'T LET THIS EVENT SLIP THROUGH YOUR FINGERS
Nggak mau ketinggalan penawaran dan informasi penting dari miniletics, kan? Jangan lupa subscribe ke newsletter miniletics sekarang dan raih kesempatan mendapatkan diskon tambahan dari kami!