All About Miniletics
Bikin Olahraga Makin Semangat, Ini Tips 'Mewarnai' Workout Wardrobe-mu!
by Support Miniletics on Feb 18, 2022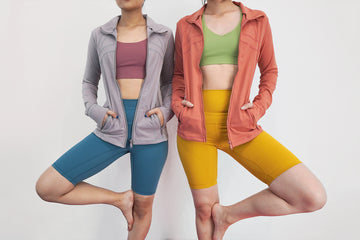 Apakah minimates termasuk tipe orang yang lebih suka dan merasa lebih cocok memakai warna hitam? It's totally okay karena warna hitam membuat kita terlihat rapi dan put together.  Atau kamu mungkin memilih baju warna gelap karena lebih mudah memadupadankannya. minimin paham banget, kok, tapi mungkin ini saatnya kamu mempertimbangkan sedikit sentuhan warna terutama pada workout wardrobe-mu. 
Seperti yang sudah kita bahas sebelumnya, warna-warna seperti pastel, neon, dan warna-warna primer bisa memberimu mood tertentu yang akan berpengaruh baik pada hasil workout kamu. Makanya, kali ini minimin ingin membagi rahasia minimin dalam menaikkan mood saat workout lewat sentuhan warna dalam outfit dan peralatan olahraga minimin. 
AKSESORIS WARNA-WARNI
Nggak perlu langsung mengubah semua elemen outfit workout-mu menjadi lebih berwarna. Kamu bisa memulainya dari yang terkecil: aksesoris. Cara begini bisa memudahkan jalanmu dalam mengubah penampilanmu menjadi lebih bright dengan aksen warna di sana sini tanpa komitmen berlebih. Headband, kaos kaki, atau scrunchie warna-warni sudah cukup untuk memberikan suntikan serotonin. Alternatif lain jika kamu tidak biasa memakai aksesoris semacam headband, kamu bisa banget lho mencari moodbooster lain lewat warna-warni yoga mat. 
Try: To be Nimble Headband, miniletics Anti Slip Rubber Mat
COLORBLOCKING 
Colorblocking jadi cara yang cukup mudah untuk menambahkan warna ke dalam workout wardrobe kamu. Karena warna gelap mudah dipadupadankan, kamu sudah membangun dasar yang bagus untuk mulai menyusupkan warna ke dalam outfit-mu. Mulai dengan item favoritmu namun dengan warna yang lebih cerah untuk mendapatkan tambahan rasa percaya diri. Cerah bukan berarti selalu harus neon. Kamu bisa coba warna-warna seperti biru laut, kuning lembut, misty lilac, merah tua, atau apapun yang membuatmu merasa nyaman. Kamu masih bisa memadukan warna-warna ini dengan warna netral kesayanganmu. 
Try: Speed Up Crop Tank - Canary Yellow, Fearless Longline Bra - Misty Lilac, Favorite Crop Tank - Baby Blue, Ready Anywhere Short - Grey Sage
PATTERN 
Nggak mudah jatuh cinta dengan baju pattern, apalagi jika kamu tipe orang yang punya wardrobe serba hitam, abu, dan navy. No need to worries, kamu selalu bisa memilih subtle pattern yang akan cocok dengan warna dasar netral. Apalagi kalau pattern-nya secantik koleksi minileticsXNina Nikicio. 
Try: Limitless Sports Bra Tie Dye Series - Light Purple, Motion Shorts 6" - Black Camo
Tiga hal di atas cuman sedikit dari begitu banyak cara yang bisa kamu coba untuk lebih menyegarkan
workout wardrobe
-mu. Jadi minimates, siap untuk bermain-main dengan warna-warna dalam
wardrobe
-mu bersama koleksi miniletics?