All About Miniletics
minilon™ Fabric: Meet Our Fabric Innovation
by Support Miniletics on Apr 12, 2022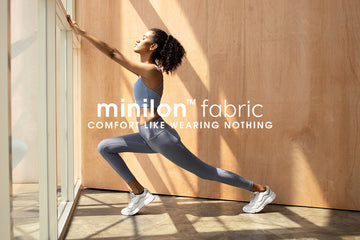 EN | ID
Push yourself to the fullest with our technologically advanced minilon™ fabric, powered with qualities that will help you free your move and flow during your reps and yoga. 
Hug you the softest 
minilon™ fabric has not only buttery feels that you'll love, but also four-way stretch technology for your wrinkle-free days. Though it's incredibly elastic, it's also super lightweight, as if it becomes your second skin every time you wear it. You can barely even tell you wear something on top of your skin. 
Zero sweat spot 
The best part? You can flow freely with its sweat-wicking microfiber knit engineered with Lycra® fibre. Giving you that shape retention and cool-dry sensation that you've always dreamt of, now you don't have to stick to dark-colored activewear. You can work out to your heart's content, without worrying that you'll soak your outfit with sweat. Just sweat it off, it won't leave spots and ruin your look.