All About Miniletics
#SerenitySunday: Manfaat Latihan Mindfulness dengan Terapi Musik
by Support Miniletics on Feb 27, 2022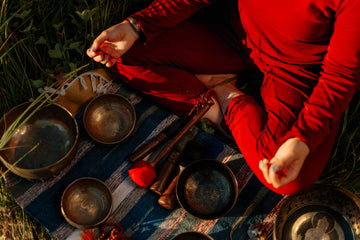 Bagaimana kabar minimates hari ini? minimin berharap semoga fisik maupun mentalmu senantiasa sehat, ya. Namun, jika belakangan ini hari-hari terasa menantang dan berat, it's okay to slow down a bit and heal. Kali ini, minimin ingin menyarankan kamu melakukan terapi penyembuhan melalui latihan mindfulness menggunakan aspek musik. Terapi musik bisa banget meningkatkan kesehatan dan kesejahteraan fisik dan mentalmu. 
FYI, penyembuhan dengan suara diyakini berasal dari zaman Yunani Kuno dan telah digunakan sejak saat itu untuk menyembuhkan gangguan mental. Sepanjang sejarahnya, musik telah digunakan untuk meningkatkan moral pasukan militer serta membantu orang bekerja lebih cepat dan lebih produktif. Orang-orang Yunani Kuno juga bahkan melakukan pengusiran roh jahat lewat nyanyian, lho!
Baru-baru ini, penelitian juga telah menyatukan musik dengan sejumlah latihan mindfulness yang bermanfaat untuk kesehatan. 
MINDFUL MEDITATION WITH HEALING SOUND
Meditasi ini merupakan bentuk penyembuhan suara yang mengharuskan minimates bermeditasi, baik duduk maupun berdiri, asalkan fokus pikiran hanya pada pernapasan dan visualisasi setiap nafas sebagai sarana menarik energi penyembuhan. Latihan mindfulness ini dikombinasikan dengan healing sound seperti suara hujan, air terjun, dan juga tibetan atau healing bowl yang memancarkan frekuensi yang dibutuhkan saat berlatih. Sekarang sudah banyak sekali audio dan playlist yang menawarkan kumpulan healing sounds ini, baik di YouTube maupun di Spotify. 
Photo by Magic Bowls on Unsplash
Selain itu, bicara soal pengaruhnya terhadap well-being kita, penelitian telah menemukan bahwa latihan ini secara sadar menawarkan sejumlah manfaat kesehatan, di antaranya:
mengurangi stres
menurunkan tingkat kecemasan dan depresi
meningkatkan memori
mengurangi tekanan darah
mengurangi rasa sakit dan rasa lelah
menurunkan kolesterol
menurunkan risiko penyakit jantung dan stroke
Nah, itu dia manfaat latihan mindfulness dengan terapi musik. Jika hari-hari mulai terasa berat, boleh banget investasi waktu sebentar buat latihan mindfulness dengan healing sound. Kamu bisa mencoba melakukan meditasi ini di manapun, terutama di alam terbuka. Selamat mencoba ya, minimates!