All About Miniletics
#twogetherwithmi is Finally Around the Corner!
by Support Miniletics on Jun 06, 2022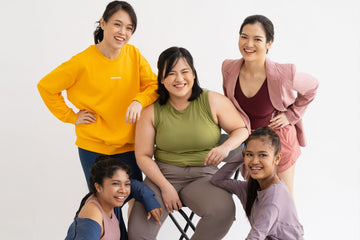 It's been a year since our first birthday yang sangat meriah dan tentunya berkesan di hati minimin. Sejak itu sudah banyak hal yang kami capai bersama kalian, mulai dari kolaborasi miniletics bersama Nina Nikicio, Powerful Movements, Live in Colors, sampai Beyond the Limit. Tiap event dan pencapaian nggak pernah gagal memberikan makna tersendiri khususnya buat Tim mini dan minimin. minimin juga sangat berterima kasih kepada minimates karena sudah selalu antusias di setiap event yang sudah minimin dan Tim mini adakan. minimin berharap events yang sudah kita lalui bersama juga mengesankan di hati minimates, ya! 
Sejak berdiri di tahun 2020, miniletics nggak henti-hentinya berupaya jadi number one support system untuk komunitas lokal di sekitar kami, khususnya atlet, yogis, dan fitness enthusiasts, lewat produk-produk yang selalu kami pastikan mutu dan kualitasnya. Nantinya produk-produk ini diharapkan bisa jadi besties yang setia menemani kalian beraktivitas dan mencapai mimpi kalian masing-masing lewat progres-progres kecil yang secara konsisten dilakukan. 
Wah, nggak terasa ya, sudah dua tahun kita bersama-sama membangun mimpi bersama. Untuk memperingati upaya kita semua selama setahun terakhir, tahun ini minimin dan Tim mini sudah menyiapkan sebuah event spesial bertajuk #twogetherwithmi dalam rangka memperingati ulang tahun miniletics kedua yang pastinya nggak kalah keren dari Onederful miniletics, dong! #twogetherwithmi juga jadi peringatan dua tahun kebersamaan kita dalam merayakan kemenangan-kemenangan kecil kita bersama-sama. 
Wah asyik! Kapan mulainya, min? Nah untuk yang satu ini, minimates harus sabar sedikit lagi, ya! minimin janji acaranya akan sangat worth the wait, kok! Akan ada banyak diskon, giveaway, dan challenge yang pastinya sayang untuk dilewatkan. Jadi, tunggu tanggal mainnya, ya! 
Sambil menunggu, kita bisa kasih harapan dan doa dulu ya buat umur miniletics yang akan menginjak tahun kedua! Di umur yang kedua ini, harapannya miniletics bisa melipatgandakan support-nya untuk kalian para minimates lewat mutu dan kualitas produk yang makin top-notch sehingga bisa membantu workout dan aktivitas kalian jadi lebih nyaman. Doanya, we hope our support to you through our products and services will last for eternity! 
Have a happiest birthday, miniletics!