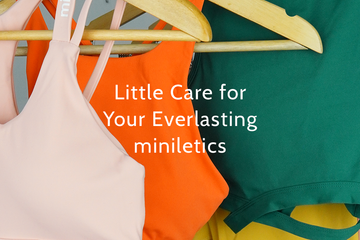 ID | EN

We encourage you to keep your activewear longer as you keep your steps for consistently progressing everyday. Give them love to get the longest life out of them.
Here are some tips to get your gear their longer life:
Best Way
Check the care and material labels for specific information on how to care for your activewear properly. 
Cold Wash, Air Dry
Machine wash in cold water and lay flat to dry or hang them in the clothesline. It is because warmer water fades colours, whilst also wearing the Lycra fibre down. By cooling your water, you can ensure the fabric will last longer and the colours of your gear will look brighter for longer. Then, hang either outside on the washing line, drying rack, or on hangers to air dry. 
Take a Closer Care of Your Bright Colored Activewear
Wash bright colours alone before you wear them and continue washing bright coloured gear with similar colours. Also, keep bright coloured gear away from other fabrics when wet. 
Inside Out
Turn your gear inside out and These ways also allow for any sweating you did in the gym to be effectively washed away and keep them longer.
Wash with Similar Items
Wash your activewear with other synthetic fabrics and also avoid anything abrasive, such as denim or garments with zippers, as this can cause major friction within the machine, leaving your gear with unpleasant looks. 
Don't Use Fabric Softener to Wash Sweat-Wicking Garments 
Avoid using fabric softener because it coats the technical fabric and inhibits its wicking capabilities. The chemicals in softeners and perfumers can stick to fabrics with sweat-wicking technologies like minilon and inhibit the sweat-wicking capabilities, causing clothes to stink.
Caring for Your Outerwear
We suggest you cold wash and tumble dry low. Before washing, ensure to close all zippers (for products with zippers). Also, use pure/laundry detergent (without softener and perfumer) to clean it effectively as leftover detergent with softener or perfumer can decrease the fabric water repellency or sweat-wicking capabilities.  
FAQ 
I used fabric softener on my sweat-wicking legging and sports bra gear, is it ruined?
No. Wash your items again without fabric softener and they should return to their normal wicking level as the softener is washed away.
How do I hand wash my miniletics? 
It's quite easy. You just need to hand wash them gently and don't be too harsh. Cold wash with detergent without any fabric softener. This way can help so much to wash away dirt and sweat and make your miniletics clean and refreshed.
Can I iron my miniletics products? 
No, you can't. Iron produces hot steam that can ruin minilon fabric which is made from nylon and Lycra mixture. This fabric has a trait like skin that can make them stiff and wrinkled, which can compromise its comfort and appearance.
Do I need to take the cups out of my sports bra to wash it?
We find that removing cups when washing our sports bras helps them to keep their shape. To wash the cups, hand-wash them in cool or warm water and lay them flat to dry. 
How do I wash my headband?
We'd suggest putting them into a delicate bag. Cold wash and lay flat to dry is best to keep the shape of your headband and the life of the fabric.