All About Miniletics
Energetic Collection: Level Up Your Energy
by Support Miniletics on Aug 18, 2022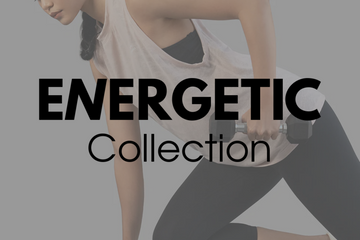 This is your chance to level up your energy and do what's good for your body with our newest Energetic Collection! Dengan koleksi terbaru miniletics yang mengedepankan fungsi serta kenyamanan, miliki semangat untuk menjaga energimu tetap penuh dan motivasimu tetap tinggi. 
Brand New Energy 
Dalam koleksi terbaru Energetic Collection, minimates bakal menemukan hal-hal baru yang belum pernah kamu temukan sebelumnya. Lima produk dalam koleksi kali ini hadir dengan konstruksi dan inovasi baru sehingga siap untuk menemanimu leveling up energi baru di setiap rutinitasmu. No need to worry minimates, tentunya koleksi ini masih menggunakan material Minilon™ yang akan memberikanmu rasa nyaman dan sejuk, even when you are drenched in sweat.  
Exceptional Functions with Chic Design
Of course, with brand new energy comes brand new innovations. Beberapa inovasi terbaru dalam koleksi kali ini di antaranya adalah built-in face protection yang jadi fitur utama dalam Jogging Crop Jacket yang siap melindungimu saat beraktifitas dalam berbagai situasi. Selain itu, seamless constructions juga jadi highlight untuk Motion Racerback Crop Tank yang akan memaksimalkan gerakmu tanpa membuat kulitmu lecet. 
Nggak cukup sampai di situ, konstruksi dan inovasi baru dalam Energetic Collection juga memungkinkanmu untuk tetap tampil stylish dengan desainnya yang chic dan versatile. Jadi, kamu bisa tetap memberikan performa optimal dalam setiap rutinitas olahragamu, mulai dari lari sampai gym training.  
How to Style Your Energetic Collection
Energetic Collection jadi koleksi miniletics yang menampilkan 5 tops dengan beragam fitur yang bisa kamu sesuaikan dengan berbagai aktivitasmu. Dengan beragam warna yang cukup netral dan kalem, ada banyak cara untuk mix and match Energetic Collection dengan leggings maupun shorts kesayanganmu, seperti Ready to Train Legging dan Motion Shorts 10" 2.0, untuk your go-to training outfit. Untuk look yang lebih casual, kamu bisa memadukannya dengan Ready Anywhere Pants. 
Kamu juga tetap bisa bermain dengan warna, entah monochromatic ataupun color-blocking karena warna-warna dalam Energetic Collection yang sangat versatile. Kamu tentunya nggak akan kehabisan akal untuk memadupadankan kelima best pieces dalam koleksi kali ini. 
So, sudah siap untuk leveling up energimu dengan Energetic Collection? Temukan your energy recharging buddy  di katalog ini ya, minimates!