All About Miniletics
Motion Dynamic Bra & Motion Lock Up Bra, Harus Pilih yang Mana?
by Support Miniletics on Dec 03, 2021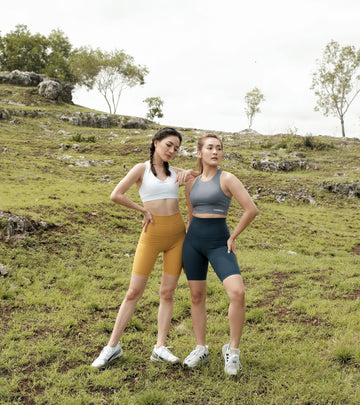 minimates pasti nggak asing dong dengan seri Motion miniletics, seperti Motion Shorts dan Motion Legging? Kali ini miniletics mengeluarkan dua Motion sports bra untuk melengkapi seri ini, yaitu Motion Dynamic Bra dan Motion Lock Up Bra.
Pusing nggak sih kalau disuruh memilih di antara keduanya? Soalnya kalau menurut minimin sendiri, keduanya bagus banget dan sayang kalau dilewatkan. 
Terus apa dong bedanya dan mana yang harus dipilih buat melengkapi koleksi sports bra kita? 
Motion Lock Up Bra
Koleksi yang pertama, Motion Lock Up Bra yang memiliki high support. Sama seperti kebanyakan produk miniletics, bra ini berbahan nilon berteknologi minilon™, yang membuat produk ini jadi well-fitted, super stretchy, dan nyaman. Campuran bahan Lycra elastane juga membuat produk ini jadi breathable dan mudah menyerap keringat sehingga cocok digunakan untuk olahraga di cuaca yang panas. Dengan desain longline di bagian depan dan racerback di bagian belakang, bra ini memberikan support lebih terutama di bagian pundak. 
Karena merupakan high support bra, Motion Lock Up Bra merupakan jenis campuran compression-encapsulation bra yang dilengkapi dengan A/B cup yang dapat dilepas dan kancing pengait yang bisa disesuaikan di bagian belakang. Makanya, bra ini dirancang khusus untuk memberikan support lebih dan bentuk alami pada payudara sehingga cocok dipakai untuk berolahraga dengan impact tinggi. 
Motion Dynamic Bra
Tentunya Motion Dynamic Bra juga nggak kalah well-fitted dan nyaman dari saudaranya. Namun, berbeda dengan Motion Lock Up Bra, Motion Dynamic Bra memiliki light support. Karenanya, meskipun sama-sama diformulasikan dengan material minilon™, Motion Dynamic memiliki rasio Lycra elastane lebih banyak dibandingkan Motion Lock Up sehingga membuat kamu lebih bebas bergerak ketika memakainya. Selain itu, desain two-line spaghetti strap semakin membuat nyaman dan mempermudah gerak kita, tapi tetap memberikan rasa aman. 
Motion Dynamic Bra merupakan jenis encapsulation bra yang memiliki A/B cup yang dapat dilepas untuk memberikan bentuk alami pada payudara kita. Dengan gaya pullover, bra ini jadinya nggak punya kancing pengait yang bisa disesuaikan dengan kebutuhan kita. Karenanya, bra ini cocok dipakai untuk aktivitas low impact bahkan nyaman juga dipakai sehari-hari. 
Harus pilih yang mana, nih?
Kalau minimates lebih sering melakukan olahraga impact berat seperti lari, HIIT, dan nge-gym, Motion Lock Up Bra is definitely gonna be your perfect companion. Mulai dari desain longline, racerback, sampai konstruksi compression-encapsulation memang dirancang untuk mendukung aktivitas berat kita. On the other side, si dinamis Motion Dynamic Bra sangat cocok kamu pakai ketika melakukan yoga, pilates, dan bahkan aktivitas sehari-hari yang nggak terlalu intens seperti berkebun. 
Meskipun keduanya punya konstruksi dan daya topang yang berbeda, material minilon™ yang diformulasikan ke dalam keduanya memberikan kesan buttery touch yang nggak memberikan banyak gesekan ketika dipakai banyak bergerak. Karenanya, kedua bra ini nyaman banget dipakai kapanpun dan di manapun. minimates tentunya nggak bakal nyesel kalau beli dua-duanya. 
Jadi, setelah tahu perbedaan keduanya, minimates mau beli yang mana nih?