All About Miniletics
All Day & Track Collection: Stay On Track, Be Prepared All Day
by Support Miniletics on Oct 10, 2022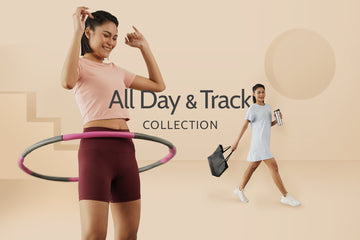 When life gives you million opportunities, it's time for you to seize your active days with our newest All Day & Track Collections! Kali ini, kita akan mengenalkan nggak hanya satu koleksi saja, tapi dua koleksi sekaligus! Seperti koleksi sebelum-sebelumnya, dua koleksi terbaru miniletics kali ini tetap mempertemukan fungsi dan kenyamanan, tapi ditambah dengan versatility yang akan membuatmu siap kapanpun dan dimanapun. Entah itu saat di kantor, hangout bersama bestie, atau bahkan saat di lapangan lari untuk sekadar jogging atau berlari.
ALL DAY COLLECTION
One of the most precious things to have in this world? Punya athleisure yang bisa menemani kamu seharian di tengah aktivitas yang padat dengan berbagai kegiatan. Kamu pastinya akan menghemat banyak waktu dan tenaga saat harus juggling banyak aktivitas berbeda seharian. 
Dalam koleksi terbaru All Day Collection, ada empat produk dengan wajah baru yang akan memberikan kemudahan buat kamu yang super aktif. Mulai dari dress, pants, sports bra, sampai t-shirt dengan style yang versatile sehingga bisa kamu pakai dalam berbagai kesempatan. Tentunya koleksi ini masih menggunakan material minilon™ yang akan memberikanmu rasa nyaman dan sejuk sehingga flow dan mobilitas kamu nggak terganggu meski beraktivitas seharian. 
Beberapa produk dalam All Day Collection juga merupakan versi upgrade dari produk-produk terdahulu yang jadi favorit minimates. Salah satunya seperti All Day Pants yang merupakan versi upgrade dari All Day Jogger dengan desain yang lebih formal namun tetap bisa dipakai workout. Selain itu, item-item seperti All Day Crop Tee and Agile Dress juga siap memberikan look yang effortlessly stylish bahkan di saat paling santai dalam hidupmu dengan desain mereka yang simpel namun tetap chic. Lively Dynamic Bra juga siap menemanimu melakukan rutinitas light workout dengan light support dan generasi terbaru minilon™ yang super lembut dan nyaman. 
TRACK COLLECTION 
Selain punya athleisure yang bisa menemani kamu seharian di tengah aktivitas yang padat, hidup juga akan terasa lebih mudah kalau kita punya sesuatu yang bisa menemani kita untuk selalu siap running dan jogging setiap saat serta stay on track. Memperkenalkan Track Collection, salah satu dari koleksi terbaru kita yang siap jadi bestie kamu dalam menggapai semua running goals kamu! 
Seperti namanya, Track Collection, ada tiga produk andalan dalam koleksi satu ini yang didesain khusus untuk menemanimu beraktivitas lari maupun jogging. Untuk kamu yang penasaran dengan Power Mesh Tank tapi lebih suka dengan desain tee untuk extra coverage, Power Mesh Tee merupakan pilihan yang tepat karena keduanya memiliki fitur yang sama persis dengan kenyamanan dan fungsi yang sama. 
Selain itu, ada On Track Mid Rise Skirt yang siap memaksimalkan performa dan potensimu. Rok dengan desain flowy flared ini akan memberikan kesan manis pada tiap penampilanmu di lapangan maupun saat santai. Dengan 2 layer berupa flared skirt dan liner yang nyaman, kamu tetap bisa merasa aman tanpa gerah. Jika kamu lebih suka short, On Track Shorts yang nggak kalah nyaman dengan 2 layer berupa loose fit short dan fitted liner. 
Seize your day by combining workout and fun on daily basis!
Setiap hari selalu menghadirkan hal-hal baru dalam rutinitas kita dan pastinya kita ingin selalu siap untuk kesempatan-kesempatan baru tersebut. Untuk selalu siap, kamu tentunya juga butuh 'teman' yang bikin nyaman dan aman, yang mungkin bisa terwujud lewat rangkaian athleisure-mu. 
So, are you ready to seize your days with All Day & Track Collections? Temukan your best buds di katalog ini, ya!