All About Miniletics
#NewMonthNewReflection: Fitness Can Be Diverse!
by miniletics Admin on Nov 01, 2021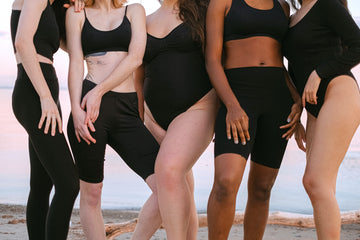 Sejak beberapa tahun belakangan, athleisure dan activewear telah menjadi hal yang begitu lekat dengan masyarakat. Apalagi saat ini budaya berolahraga dan hidup sehat menjadi lifestyle yang begitu digandrungi banyak orang. Hal ini dianggap sebagai salah satu kemajuan karena berarti masyarakat jadi lebih aware sama kesehatan dan kebugaran tubuh mereka.
Namun, bertambahnya semangat masyarakat dalam menyongsong budaya hidup sehat ternyata nggak berbanding lurus dengan pemahaman soal keberagaman dan inclusivity yang pastinya menyertai budaya tersebut. Nyatanya, banyak orang masih mengalami diskriminasi karena dianggap punya bentuk badan dan warna kulit yang nggak sesuai dengan standar masyarakat yang ada. 
Kenapa kayak gitu, ya? Penyebab sebenarnya adalah karena media dan market yang kurang memberikan representasi dari keberagaman itu.
Photo by Anna Shvets from Pexels
Nah, sekarang coba minimates tilik kembali, berapa banyak iklan kesehatan dan kebugaran di luar sana yang hanya menampilkan model dengan kulit putih dan tubuh ramping? Hal ini diperparah dengan banyaknya brand yang sepertinya ogah membuka mata dan telinga dengan adanya keberagaman di dalam masyarakat ini: bahwa standar yang diciptakan masyarakat itu nggak masuk akal karena hanya mencakup sebagian kecil populasi saja. Jadinya, mereka hanya menyediakan beberapa produk dengan ukuran tertentu atau bahkan warna-warna tertentu saja yang hanya bisa dipakai oleh sebagian orang dengan, misalnya, tubuh langsing, kulit putih, dan badan yang tinggi saja. 
Hal ini juga menunjukkan bahwa seakan-akan olahraga, kegiatan fisik, dan bentuk manifestasi budaya sehat lainnya eksklusif hanya diperuntukkan buat mereka yang memiliki bentuk badan 'bagus'. Padahal, orang-orang yang dianggap nggak memiliki 'bentuk tubuh yang bugar dan ideal' juga banyak yang aktif berolahraga, lho. Akibatnya, kebutuhan mereka akan fitness apparel yang bisa mendukung upaya mereka untuk jadi lebih sehat jadi nggak terpenuhi dengan maksimal. 
Lalu, apa yang terjadi ketika banyak brand nggak mewadahi kebutuhan orang-orang yang dianggap misfit ini? Sayangnya, hal ini akan berdampak pada persepsi masyarakat tentang image kesehatan dan kebugaran itu sendiri. Padahal, kan, seharusnya punya tubuh yang bugar dan badan yang sehat merupakan hak semua orang. Fitness can absolutely be diverse and for everyone. 
Terus, sebagai konsumen, apa nih yang mesti kita perbuat? Untuk preserve budaya hidup sehat yang lebih diverse dan inclusive, kita sebagai konsumen tentunya bisa memulainya dengan mendukung brand yang juga menjunjung nilai diversity dan inclusivity, yaitu brand yang menawarkan produk-produk dengan berbagai size dan warna yang cocok buat semua orang.
Nah, minimates, sudah siap jadi gatekeeper untuk mengubah fitness community jadi tempat yang lebih baik buat semua kalangan? Nantikan surprise dari miniletics di event yang akan datang, ya!
Featured image by Anna Shvets from Pexels