All About Miniletics
The Essential Collection: Get All Your Essentials
by Support Miniletics on May 25, 2022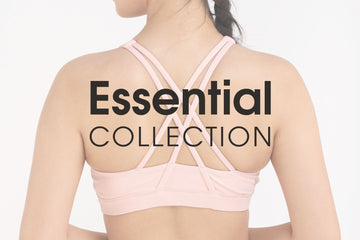 Say hello to the brand new colours of the season! Setelah sebelumnya jadi favorit banyak orang, item-item dalam koleksi ini kembali dengan leveled-up comfort and style, serta nggak lupa dengan warna-warna baru yang refreshing, cheerful, dan tentunya fun! It's time to level up your activewear game into something more fun!
Our levelled-up version
Keenam item dalam Essential Collection kali ini merupakan versi levelled up produk-produk esensial miniletics di koleksi terdahulu yang sudah jadi workout buddy yang setia untuk kamu. Keenam item ini juga sudah menemani kamu menjalani hari-hari aktifmu dengan materialnya yang sweat-wicking dan buttery smooth. Dengan desain-desainnya yang nggak lekang oleh waktu, keenam item dalam Essential Collection kali ini, undoubtedly, jadi item-item favorit banyak orang. 
We are Genie for your wish. Kami tahu kamu ingin item-item esensial ini nggak cuma mendukung aktifmu, tapi juga meet your aesthetics. So, Essential Collection berhasil menjawab keinginanmu dengan mengombinasikan semua aspek esensial yang kamu harapkan dari activewear milikmu: chic style, super comfy materials, maximal function, and, of course, fresh colours. 
More fun to wear, more fresh to watch 
Terinspirasi dari warna-warna pop yang sedang tren saat ini, warna-warna terbaru Essential Collection berusaha memberi kesan cheerful dan joyful yang diperlukan untuk membuat rutinitas olahraga kita jadi lebih fun. Kami juga menambahkan beberapa warna versatile yang lembut sehingga bisa dipadupadankan dengan outfit apapun, dan untuk momen apapun. 
Keenam best pieces ini masing-masing datang dengan 5 warna baru: Black, Bajo Sea Green, Strawberry Milk, Orange Soda, dan Yellow Butter, membuatnya jadi koleksi yang nggak akan bikin kamu kehabisan ide untuk jadi the best dressed tiap latihan dan rutinitas santaimu. 
How to style your Essential Collection
Ada begitu banyak cara untuk mix-n-match Essential Collection. Kamu bisa mencobanya dengan memperhatikan kegiatan apa yang akan kamu lakukan atau olahraga apa yang akan kamu jalani. Memadukan Power High Neck Bra 2.0 dengan Motion Shorts 10" 2.0 juga bisa jadi your go-to running outfit. Atau, untuk hari Minggumu yang santai, kamu bisa memadukan Embrace High Neck Bra 2.0 milikmu dengan Ready Anywhere Crop 2.0 ditambah outer kesayanganmu, seperti cardigan atau kemeja flanel. 
Kamu juga bisa mix-n-match dengan memperhatikan segi warna lho, minimates. Kamu bisa coba memakai monochrome outfit untuk kesan yang lebih simpel dan elegan. Kalau kamu ingin lebih bereksperimen, kamu bisa coba colorblocking dengan memadukan dua warna.
Atau, kamu bisa memadukan warna apa saja dengan warna hitam untuk memberikan sentuhan yang segar pada outfit-mu tanpa mengurangi rasa percaya dirimu. 
So, sudah siap untuk jadi lebih fun and all essentials dengan Essential Collection? Temukan yang cocok dengan 'warna'-mu di katalog ini, ya!