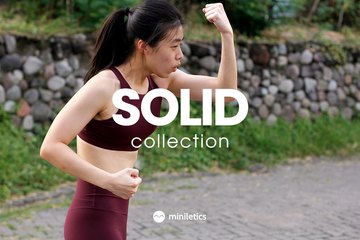 It's time to get your best and solid move with our newest Solid Collection! Dengan koleksi terbaru miniletics yang mengedepankan fungsi serta kenyamanan, nikmati pengalaman beraktivitas dan berolahraga paling optimal yang pernah kamu rasakan. 
More Solid with Solid minilon™
Dalam koleksi terbaru Solid Collection, minimates bakal menemukan hal baru yang belum pernah kamu temukan sebelumnya. Koleksi terbaru ini terdiri dari tiga tops terdahulu dari miniletics yang menjadi favorit minimates serta dua bottoms yang nggak kalah nyaman. Lima produk dalam koleksi kali ini hadir dengan konstruksi dan inovasi baru sehingga siap untuk menemanimu beraktivitas, terutama saat melakukan aktivitas medium-to-high. Koleksi kali ini menggunakan versi lebih solid dari minilon™ yang memiliki serat kain lebih rapat sehingga memberikan keamanan dan kenyamanan saat berolahraga dengan medium-to-high impact. 
Look Fierce and Stronger with Bold Colors
Selain serat kain yang lebih rapat dan lembut dari versi solid minilon™, warna-warna pilihan untuk Solid Collection kali ini lebih bold sehingga memberikan kesan strong tiap kali kamu beraktivitas. Terdapat tiga warna pilihan earth tone yang bisa kamu padu padankan dan siap menemani kamu berolahraga dengan lebih bold, yaitu Avocado Espresso, Choco Brown, dan Cherry Brown. Kini kamu nggak perlu cuman mengandalkan warna hitam saja buat tampil strong. Kamu bisa tetap tapi kece dan fierce tanpa takut mati gaya. 
How to Style Your Solid Collection
Dengan 3 tops dan 2 bottoms, kamu bisa mix & match Solid Collection sesuai kebutuhan dan preferensi kamu. Untuk outfit yoga dan pilates, kamu bisa memadukan ketiga sports bra di koleksi ini dengan Solid High-Rise Shorts. Kamu juga bisa memadukan Solid Legging Full 24" dengan Solid Power High Neck Bra untuk workout dengan high impact. 
Kamu juga tetap bisa bermain dengan warna, entah monochromatic ataupun color-blocking karena warna-warna dalam Solid Collection yang sangat versatile. Kamu tentunya nggak akan kehabisan akal untuk memadupadankan kelima best pieces dalam koleksi kali ini. 
Jadi, sudah siap menyambut rutinitas olahraga yang lebih solid di tahun 2023? Temukan your best buds di katalog ini, ya!