All About Miniletics
The Limitless Collection: Time to Seize Your Possibilities
by Support Miniletics on Apr 01, 2022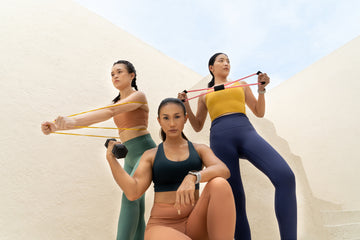 The Limitless collection is finally here! Rangkaian koleksi terbaru miniletics ini siap untuk membuat athleisure wardrobe kamu lebih versatile dengan kombinasi warna dan opsi gaya yang nggak terbatas. Limitless collection juga akan jadi wardrobe yang selalu membuat kamu merasa siap di setiap kesempatan dan mendukung kamu bagaimanapun fitness journey-mu. 
Unlock your possibilities and unleash your power
Dengan segala kesempatan yang terbuka lebar di luar sana, Limitless collection didesain untuk mendukungmu menggapai kesempatan yang nggak kamu bayangkan sebelumnya. Limitless collection bisa jadi bestie-mu dalam mengerahkan seluruh kekuatanmu untuk meraih kesempatan itu: kesempatan untuk melakukan olahraga ekstrem, kesempatan belanja dengan diskon besar-besaran setelah lari pagi, atau kesempatan untuk tetap nyaman di siang yang panas. 
Terbuat dari material yang memiliki moisture-wicking technology dan buttery feels, semuanya jadi mungkin dengan Limitless collection. Desainnya yang edgy namun tetap simpel membuat koleksi ini jadi go-to outfit yang bisa dipakai di tiap kesempatan. Nggak hanya itu, dengan warna-warna baru yang lebih beragam, ada banyak cara dan opsi styling yang akan pas dengan personaliti kamu. 
How to style Limitless
Sebagai inspirasi untuk mix-n-match Limitless, intipin gaya Kak Elaine, Kak Michelle, dan Kak Shanti styling menggunakan Limitless collection. Siapa tahu sesuai dengan gaya kamu. 
Well, sekarang saatnya untuk mengejar berbagai kemungkinan dan kesempatan di depan matamu dengan ditemani Limitless Collection. Temukan yang cocok untuk jiwamu di katalog ini!