All About Miniletics
Welcome the Newborn Ace! Meet Ace Mid Rise Skirt, Skort For Your Carefree Movement
by Support Miniletics on Dec 06, 2021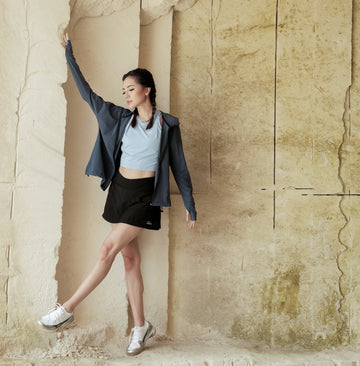 Say hello to our Ace Mid Rise Skirt, minimates!
Sebagai produk baru, Ace Mid Rise Skirt merupakan sebuah produk yang inovatif dan mampu menjawab kebutuhan kalian para minimates yang menginginkan lima hal dalam satu produk: aesthetic, security, practicality, versatility, dan tentu saja comfort. 
Shorts Berbahan Lembut Dipadu Skirt yang Flowy 
Sebelumnya, kita kenalan dulu yuk sama ace yang satu ini. Ace Mid Rise Skirt ini merupakan sebuah skort—skirt di luar, shorts di dalam—dengan medium support. Berbeda dengan skirt biasa, skort sendiri selalu dilengkapi dengan shorts di dalamnya untuk memberikan keamanan dan kenyamanan ekstra buat pemakainya. Ketika legging terlalu bikin gerah, skort tentunya bisa jadi pilihan yang tepat buat menemani minimates beraktivitas. 
Selain itu, athletic skort yang dibuat dengan bahan activewear juga pastinya membuat kita tetap merasa sejuk, tetap kering, dan nyaman ketika berolahraga nggak peduli seberapa panas cuacanya. Nah, Ace Mid Rise Skirt sendiri diformulasikan dengan material 80% polyester dan 20% spandex sehingga memberikan kelembutan dan mengurangi gesekan ketika dipakai, so you guys can say goodbye to chafing! 
Melihat desain dan bahannya sih pastinya skort ini memungkinkan kita untuk bebas bergerak ya, minimates. Kita jadi bisa pakai rok untuk berolahraga tanpa khawatir soal coverage dan aspek kenyamanannya. 
Praktis dengan Kantong dan Elastic Waistband
Selain dari segi nyaman dan amannya, Ace Mid Rise Skirt juga memiliki desain elastic waistband yang sangat praktis tanpa harus repot sama resleting ataupun pengait. Nggak cukup sampai di situ, skort ini punya nggak cuman satu, tapi tiga saku fungsional sekaligus di bagian belakang dan kedua sisi samping rok. Kartu ATM, kunci motor, uang, apapun yang kamu perlukan bisa dengan mudah kamu jangkau tanpa perlu repot-repot bawa tas ataupun dompet saat berolahraga atau beraktivitas. 
Activewear yang Versatile 
Meskipun skort sering dianggap sebagai outfit tennis, activewear ini sebenarnya merupakan sports item yang paling versatile karena bisa banget dipakai untuk berbagai macam kegiatan, seperti hiking, lari, bootcamp, atau jalan-jalan santai. Terus, bagaimana caranya mix and match skort buat tiap aktivitas yang berbeda ya, min? 
Karena desainnya yang cantik dan flowy dengan desain pleated di bagian belakang rok, ada banyak cara untuk styling Ace Mid Rise Skirt. minimates bisa memadukannya dengan Sprint Short Sleeve atau Sprint Long Sleeve untuk mendapatkan road running look. Habis pulang lari dan minimates butuh pergi ke supermarket? Tenang, tinggal ganti atasannya dengan Sans Crop Tee. Selain itu, memadukan Ace Mid Rise Skirt dengan Favorite Crop Tank juga bisa jadi look makan siang di akhir pekan yang dilanjut dengan jalan-jalan keliling kota atau exploring tempat-tempat menantang yang belum pernah didatangi sebelumnya. Bisa juga memadukannya dengan light support sports bra seperti Motion Dynamic Bra untuk mendapatkan beach look yang lebih sporty. 
Selain bisa jadi alternatif yang menyenangkan untuk legging, short, atau celana biasa, Ace Mid Rise Skort tentunya merupakan hal terbaik yang pernah ada karena kenyamanan, performa, dan gaya yang dimilikinya. Skort ini tentu saja jadi sports item yang sempurna untuk menemani kemanapun jiwa petualang kita membawa kita.
Masih mau mikir berapa kali? Go get yourself one, minimates!