All About Miniletics
This is Gonna Be Your Long-time Favorite: Favorite Hijab Collection
by Support Miniletics on Dec 07, 2021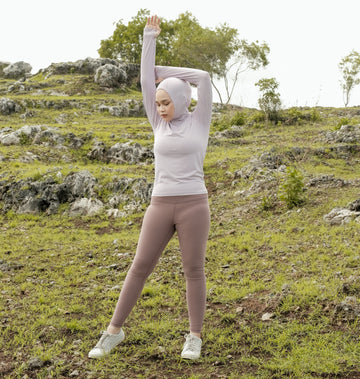 Sebagai seorang Muslim yang berhijab, tentunya memilih outfit yang cocok untuk berolahraga harus secara detail. Nggak sembarang hijab bisa digunakan untuk workout. Kalau bahannya terlalu tebal atau nggak menyerap keringat, yang ada malah pengap karena kulit susah bernafas. Apalagi area leher dan kepala biasanya yang paling sering berkeringat.
Karena paham akan concern itu, di launching Powerful Movement Collections kali ini miniletics mengeluarkan series baru yaitu Favorite Series yang cocok buat para hijabi. Di seri ini terdapat 2 produk terbaik untuk hijabi, manset dan hijab, untuk mendukung kegiatan olahragamu.
Yuk, kita kenalan sama produk-produk yang akan jadi kesayangan semua orang ini!
Favorite Hijab Sleeve 
This is the highlight of this collection! Favorite Hijab dengan desain yang simpel dan tiga pilihan warnanya yang cantik ini berbahan 100% polyester. Artinya nggak akan ada lagi tuh hijab basah terkena keringat karena hijab ini mampu menguapkan kelembaban di kain sehingga kamu bakal tetap kering seaktif apapun kamu berolahraga. Hijab yang breathable dan ringan ini pastinya memungkinkan kamu untuk bebas bergerak. Rambut dan kulit kepala akan tetap bisa bernapas dan tentunya kamu akan tetap merasa sejuk. 
Favorite Long Sleeve
Birds of a feather flock together. Produk dengan kualitas yang sama-sama bagus juga cenderung jadi satu kesatuan. Karenanya, memakai Favorite Hijab nggak akan lengkap tanpa Favorite Long Sleeve. Dengan material yang sama pastinya juga memberikan kelebihan yang sama, ya: moisture-wicking, cepat kering, breathable, dan ringan. Hal ini jadinya memudahkan ruang gerak kamu ketika beraktivitas tanpa takut kepanasan. 
Twist-nya, long sleeve ini dilengkapi dengan thumb hole. Selain untuk menjaga minimates tetap hangat ketika beraktivitas di cuaca yang dingin, thumb hole ini juga berguna untuk menjaga agar bagian pergelangan tangan bisa tertutup dengan sempurna, jadinya kamu akan tetap nyaman ketika workout di luar rumah tanpa takut lengannya tersingkap dan tergulung. 
Another twist, selain cocok digunakan untuk berolahraga, Favorite Long Sleeve juga cocok banget dipakai untuk casual activity sebagai manset. Warna-warnanya yang soft dan netral membuatnya cocok dipadupadankan dengan berbagai fashion item kesayangan minimates. Dengan kemampuannya dalam menguapkan kelembaban serta menjaga kulit tetap kering dan bisa bernapas, tentunya minimates nggak perlu khawatir lagi layering baju menggunakan long sleeve ini. 
Dengan banyaknya hal yang mampu diberikan dua produk di atas, minimin sih sudah menjadikan produk-produk di koleksi ini sebagai produk favorit minimin. Selain itu, hal ini juga karena koleksi ini juga merupakan upaya miniletics dalam membangun industri activewear yang lebih inklusif sehingga kita bisa merangkul lebih banyak orang untuk berproses dan fit bersama-sama.