All About Miniletics
Butuh Rekomendasi Outfit buat Beraktivitas di Cuaca Panas? Why Not!
by Support Miniletics on Aug 31, 2022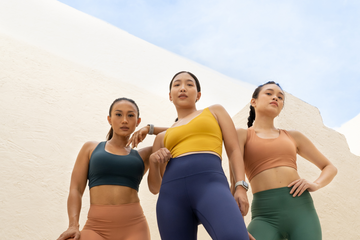 Udara panas akhir-akhir ini bikin malas berolahraga dan beraktivitas, ya, minimates, apalagi kalau harus beraktivitas di luar rumah. Olahraga dan berkegiatan jadi kurang asyik, terlebih kalau harus pakai baju yang bikin keringetan parah. Meski kayak gitu, miniletics punya solusinya, lho. Beberapa produk miniletics didesain khusus untuk kamu yang tetap ingin aktif beraktivitas meskipun cuaca lagi terik sekalipun. Nah, berikut ini adalah rekomendasi produk-produk miniletics yang bakal nyaman kamu pakai ketika ingin berolahraga dan beraktivitas di cuaca yang panas. Check these out, minimates!
Power Mesh Tank Top
Rekomendasi pertama adalah Power Mesh Tank Top yang selalu nyaman dipakai olahraga indoor ataupun outdoor. Dengan desainnya yang loose dan pilihan warna yang beragam, olahraga kamu akan jauh lebih menyenangkan dan stylish! Selain itu, bahannya yang ringan dan breathable bikin olahraga di cuaca yang panas akan tetap terasa sejuk. Power Mesh Tank Top juga bisa banget kamu pakai sebagai outer yang bisa kamu padukan dengan sports bra kesayanganmu lho, minimates!
Ready Anywhere Shorts
Selain atasan, ada juga beberapa rekomendasi bawahan yang bisa banget kamu padu padankan dengan Power Mesh Tank Top, lho, minimates. Ada Ready Anywhere Shorts yang bisa kamu pakai di banyak kesempatan. Shorts ini pas banget buat dipakai berolahraga dan berkegiatan di dalam maupun di luar rumah biar kamu tetap bisa nyaman dan stylish. Selain warna-warna dan desainnya yang cantik, shorts ini juga cepat menyerap keringat karena terbuat dari bahan polyester yang ringan, makanya nyaman banget dipakai buat beraktivitas kapan aja dan di mana aja.
Ready Anywhere Crop
Kalau kamu butuh celana panjang buat berolahraga dan tetap ingin terasa sejuk, miniletics punya beberapa produk leggings dan celana panjang yang bisa melengkapi outfit kamu, salah satunya si best seller, Ready Anywhere Crop. Dilengkapi dengan saku depan dan drawcord, celana ini pas banget buat kamu yang praktis dan bergaya sporty. Celana ini juga bisa banget kamu pakai untuk ngantor maupun main bareng teman karena bahannya yang menyerap keringat dan warna-warnanya yang netral, bikin Ready Anywhere Crop jadi salah satu items yang wajib ada di lemari kamu.
To Be Nimble Headband
Suka risih sama keringat yang menetes di wajah? Tenang, miniletics punya To be Nimble Headband yang bisa membantu kamu menghalau keringat ketika berolahraga dengan penuh gaya. Dengan desain yang halus dan bahan yang elastis dan lembut, bandana ini enggak bikin sakit ketika dipakai berjam-jam. Warna-warna yang ditawarkan juga enggak kalah menarik, lho, minimates: ada warm pink yang cantik, icy blue yang warnanya bikin sejuk di mata, juga black dan navy yang keren banget.
Itu dia beberapa produk rekomendasi minimin buat kamu para minimates yang ingin tetap nyaman beraktivitas di cuaca yang panas kayak sekarang ini. Enggak cuman produk-produk di atas aja lho yang bisa mendukung kamu buat aktif di cuaca terik, miniletics masih punya banyak banget produk yang bisa menemani kamu di setiap kesempatan. Yuk, buruan cek katalog miniletics buat tahu outfit-outfit olahraga berkualitas lainnya.