All About Miniletics
Pasti Aman, Inilah Tips Diet Sehat Sesuai Anjuran Ahli
by miniletics Admin on Mar 08, 2021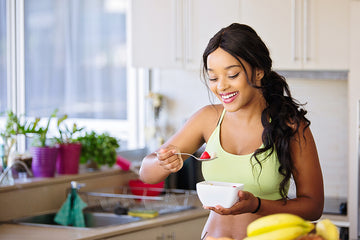 Banyak dari kalian yang masih bingung tentang apa dan bagaimana sih diet yang sehat? So, diet yang sehat adalah diet dengan mengkonsumsi makanan dengan gizi seimbang dan tidak lupa untuk dilakukan bersamaan dengan olahraga. Metode diet sehat sangat berbanding terbalik dengan diet instan yang cenderung hanya fokus pada usaha menurunkan berat badan tanpa mempedulikan kandungan gizi yang dikonsumsi sehar-hari.
Photo by: Elle Hughes (Pexels)
Menurut World Health Organization (WHO), pola makan yang sehat membantu melindungi dari malnutrisi dalam segala bentuknya, serta penyakit seperti diabetes, penyakit jantung, stroke, dan kanker. Kira-kira apa aja sih asupan makanan yang harus dikonsumsi untuk diet sehat? Berikut ini pembahasan singkat mengenai diet sehat yang sudah kami siapkan untuk Minimates tercinta!
Menurut WHO, diet yang sehat meliputi:
Buah, sayuran, kacang-kacangan dan biji-bijian seperti jagung, millet, oat, gandum, dan beras merah yang belum diolah. Setidaknya 400g buah dan sayuran harus dikonsumsi setiap hari.

Konsumsi gula kurang dari 10% atau setara dengan 50g (atau sekitar 12 sendok teh) untuk orang dengan berat badan normal yang mengkonsumsi sekitar 2000 kalori per hari. Tapi, idealnya mengkonsumsi gula kurang dari 5% dari total asupan energi untuk manfaat kesehatan tambahan.

Konsumsi asupan energi dari lemak kurang dari 30% per harinya. Lemak tak jenuh yang didapat dari ikan, alpukat dan kacang-kacangan lebih baik daripada lemak jenuh yang ditemukan dalam produk seperti daging, mentega, keju, dan minyak. WHO menyarankan agar asupan lemak jenuh dikurangi hingga kurang dari 10% dari total asupan energi.
Ini cara yang lebih praktis agar Minimates bisa mengingat seberapa banyak sih setiap kelompok makanan yang harus dimakan: 
Mengisi setengah piring dengan buah dan sayuran

Mengisi lebih dari seperempat dengan biji-bijian

Mengisi kurang dari seperempat piring makanan berprotein

Mengkonsumsi produk susu di sampingnya
Tentang Kalori
Jumlah kalori dalam makanan mengacu pada jumlah energi yang terkandung dalam makanan itu. Tubuh Minimates menggunakan kalori dari makanan untuk berjalan, berpikir, bernapas, dan fungsi penting lainnya.
Menurut Healthline, rata-rata orang membutuhkan sekitar 2.000 kalori setiap hari untuk mempertahankan berat badannya, tetapi jumlah kebutuhan kalori ini akan tergantung pada usia, jenis kelamin, dan tingkat aktivitas fisik kalian. Pria cenderung membutuhkan lebih banyak kalori daripada wanita, dan orang yang berolahraga membutuhkan lebih banyak kalori daripada orang yang tidak berolahraga.
Untuk mengetahui lebih lanjut kalori yang kalian butuhkan setiap harinya, simak tabel berikut:
| | |
| --- | --- |
| Jenis & Umur  | Kebutuhan Kalori |
| Anak kecil yang tidak aktif (2-8 tahun) | 1,000 - 1,400  |
| Anak kecil yang aktif (2-8 tahun) | 1,000 - 2,000 |
| Wanita (9-13 tahun) | 1,400 - 2,200 |
| Pria (9-13 tahun) | 1,600 - 2,600 |
| Wanita aktif (14-30 tahun) | 2,400 |
| Wanita yang tidak aktif (14-30 tahun) | 1,800 - 2,000 |
| Pria aktif (14-30 tahun) | 2,800 - 3,200 |
| Pria yang tidak aktif (14-30 tahun) | 2,000 - 2,600 |
| Orang aktif - umum (30 tahun keatas) | 2,000 - 3,000 |
| Orang yang tidak aktif - umum (30 tahun keatas) | 1,600 - 2,400 |
Saat Minimates melakukan diet sehat, jangan lupa disertai dengan olahraga setiap harinya ya! Olahraga tidak harus berdurasi lama kok, yang penting bersungguh-sungguh dan berkualitas. Selain menyehatkan, olahraga juga membantu dapat membantumu mencapai body goals impian!
Sesuai dengan visi Miniletics, be consistent with small progress and celebrates small wins! kami berharap Minimates bisa menghargai setiap usaha-usaha kecil yang kalian lakukan. Tidak perlu buru-buru untuk menurunkan berat badan secara cepat, perlahan saja tapi pasti. Selain itu, berikan apresiasi pada diri sendiri saat berat badan sudah mulai turun berapapun itu, sedikit maupun banyak. Jangan lupa bersyukur!
There is no shortcut. It takes time to build a better & stronger version of yourself -