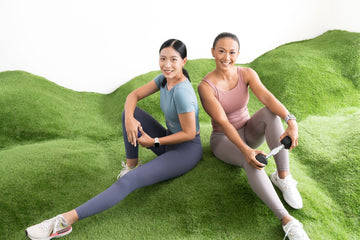 Nggak terasa event tahunan terbesar miniletics tahun ini, #twogetherwithmi Sale, berakhir dengan mulus dan sukses bikin banyak orang bahagia. Antusiasme minimates juga sangat terasa dan itu yang membuat minimin dan Tim mini sangat puas dan bahagia. Event ini akan jadi memory core minimin yang akan minimin kenang sampai akhir. 
Tapi minimates sadar nggak sih? Ada beberapa kejadian yang worth to highlight dan membuat #twogetherwithmi nggak kalah seru dan meriah dari event tahun sebelumnya. Apa saja, nih?
Rangkaian acara lebih panjang dari tahun lalu
Melihat antusiasme luar biasa yang nggak terkira saat Onederful miniletics tahun lalu membuat Tim mini jadi memutuskan untuk memperpanjang periode event #twogetherwithmi. Onederful miniletics yang hanya berlangsung selama 3 hari dirasa kurang sehingga di event tahun ini, periode event berlangsung selama 5 hari dari tanggal 16 Juni sampai 20 Juni! Meski begitu, keseruan dan antusiasme minimates nggak surut hingga hari terakhir di tanggal 20 Juni kemarin. 
Flash extra voucher 
Ini nih yang bikin seru karena flash extra voucher ini bisa didapatkan dengan cara rebutan dengan minimates yang lain. Flash extra voucher sebesar 20% ini bisa diklaim dan tersedia di tanggal 17-20 Juni pada jam tertentu serta persediaannya juga terbatas sehingga minimates memang harus rebutan untuk mendapatkan kesempatan menguntungkan ini. 
Beda platform beda keuntungan
Di event #twogetherwithmi tahun ini, kami bekerja sama dengan beberapa brand, yaitu Kaiahati, Ladang Lima, dan The Bath Box. Kerjasama kali ini membuat event semakin seru karena kamu berkesempatan untuk menikmati keuntungan yang berbeda jika berbelanja di platform yang berbeda. Seperti, setiap belanja lewat webstore, kamu akan mendapatkan tambahan voucher dari The Bath Box. Untuk pembelanjaan lewat Tokopedia, kamu akan mendapatkan extra voucher serta produk dari Ladang Lima, sedangkan voucher dari Kaiahati bisa kamu dapatkan jika kamu belanja lewat Shopee. 
Diskon all items
Perayaan yang meriah, diskon bertebaran, voucher belanja di mana-mana. minimin dan Tim mini tentunya nggak berhenti sampai di situ. Diskon all items juga bisa kamu nikmati up to 50%, termasuk untuk koleksi terbaru kita, Essential Collection yang sayang buat dilewatkan. 
#Catchmi challenge 
As the cherry on top, minimin dan Tim mini juga mengadakan giveaway challenge spesial ulang tahun yang bertajuk #Catchmi Challenge. Peraturannya juga mudah karena minimates hanya perlu screenshot 3 produk miniletics dari domino secara sejajar, lalu mengunggahnya sebagai story dengan tag @miniletics dan 3 teman. Untuk challenge tebak hitung produk, kami bekerja sama dengan Argavell.id. Giveaway ini berlangsung dengan meriah karena banyak sekali minimates yang ikut dan mengajak teman-teman untuk ikut. 
minimates sempat ikut semua rangkaian #twogetherwithmi nggak, nih? Wah, minimin sih ikut semua ya, jadinya masih merasakan euforianya sampai sekarang. Buat yang belum kebagian jangan sedih, ya! Nantikan lagi event terbesar ulang tahun miniletics tahun depan yang semoga nggak kalah seru dari tahun ini.