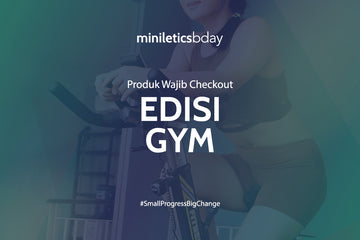 Bench press aman, crunch aman, jump squat aman.
Gym athletes, siapin outfit kece yang support gerakan kalian biar makin slay di gym! 
3 Atasan Ter-Favorit untuk Olahraga Medium-High Impact
Solid Embrace Bra High Neck Support with A/B Cup

"Tema natural tone, bisa dipakai ke semua jenis warna kulit. Sports bra ini sudah model favorit aku dari dulu. Pas banget dipakai untuk olahragaku sehari-hari yang sifatnya lebih high impact" - Siska Antolis
Bra satu ini adalah produk favorit dari Siska Antolis,
brand ambassador
miniletics. 
Baru Januari 2023 kemarin, model ini keluar dengan bahan yang lebih kompres lagi. Bener-bener terverifikasi anti guncang, bra dari koleksi SOLID ini, mates!
Alleviate Bra Medium Support with A/B Cup
"Kereeen!! Super kereenn!! Saya repeat order sampai punya semua warna 🙈. Barang sesuai gambar, nyaman dipakai dan yang pasti looking good." - L***y
Desain strap-nya di sisi belakang bukan cuma stylish, tapi juga dirancang dengan efek nge-lock. Meskipun tidak se-shock proof bra yang high neck, support-nya cukup untuk workout di gym dan yang terpenting, cutting di sisi depannya manis banget.
ClariTy Tank Top
"Exactly what I expect, love it." - K***a
Nah, kalau kalian tipe yang kurang nyaman pakai sports bra, alias merasa terlalu terekspos… Kalian bisa check out tank top satu ini. Bahannya halus dan breathable. Kalian berkeringat sampai seperti habis mandi juga, nggak akan gerah dan tank top-nya akan cepat kering.
3 Bawahan Ter-Favorit untuk Olahraga Medium-High Impact
"Enak banget dipakai. Nge-press tapi pas" - CF
Pernah gak, saking heboh-nya kalian gerak di gym, orang sampai tanya kalian nge-reog atau workout? Udah gitu legging kalian kerasa semi-semi melorot?
Kalau jawaban kalian "ya", artinya kalian butuh legging ini, guys! Dia lebih ketat tapi tetap nyaman (namanya juga SOLID yaa), body shaping lagi~ 
Solid High-Rise Shorts 4"

"Jujur Gita udah lama sih, kenal brand miniletics ini. Dan sekali Gita beli, bener-bener ketagihan buat beli semua collection-nya. Stretch banget saat dipakai dan model-modelnya bener-bener kekinian banget." - Gita VBPR
Nah, kalau kalian suka yang lebih pendek, ada juga versi shorts dari koleksi SOLID. Shorts ini banyak dipakai coach-coach gym dan minimates lain yang workout-nya tergolong intens.
Motion Shorts 6"
"Bahannya bagus enak dipake workout.. ketagihan belanja miniletics 😍😍" - m*****a
Untuk kalian yang nge-gym tapi sukanya kardio yang lebih ringan, seperti threadmill dan cycling, dan lebih prefer shorts yang lebih lentur (light compression)... Kalian bisa coba Motion Shorts ya, gengs!
Boleh banget, mates, kalau kalian masih mau tanya-tanya lebih lanjut tentang produk yang tim miniletics rekomendasikan atau produk lainnya. Langsung aja tanya admin miniletics atau DM kita di Instagram. Inget guys, kita jarang diskon sebesar ini… Don't miss out!
Artikel terkait:
FAQ Birthday Sale
Produk Wajib Checkout: Edisi Yoga
Produk Wajib Checkout: Edisi Nongki