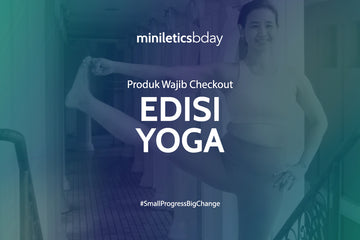 Ciwi-ciwi Yogi mana suaranyaaa? Ciwi-ciwi pilates siap checkout? Kalian bisa langsung cek sportwear paling worth it rekomendasi tim miniletics yang pastinya cucok buat kalian - dari atasan sampai bawahan.
3 Atasan Ter-Favorit untuk Olahraga Low Impact
Swift Y Bra
"Ukuran pas dan sangat nyaman digunakan.. miniletics memang bikin ketagihan 😍" - N*
Kalau kalian suka cutting sports bra yang lebih feminin dan warnanya unyu, kalian pasti suka Swift Y Bra yang memang cantik tik tik. Apalagi diskonnya sampai 50%. Langsung ambil deh, mates!
Embrace Bra Medium Support with A/B Cup
"Model & cutting nya super bagus. Bahannya super bagus, nyaman & supportive banget. Harga terjangkau banget apalagi dengan level kualitas nya." - d*****1
Sudah terkenal di kalangan minimates sedari lama. Support-nya kuat untuk olahraga low hingga medium intensity. Buat kalian yang cari model simpel, ini jadi salah satu pilihan yang tidak bisa kalian lewatkan. Eh? Sudah punya? Boleh juga lah tambah warna lain~
Feel Free Bra Medium Support with A/B Cup
"miniletics kalo milih bahan jago banget, super...nyaman banget. Menyerap keringat, ukuran cup besar" - r*******a

Warna untuk cewek kue? Ada. Warna untuk cewek mamba? Ada juga. Yang cari warna tidak pasaran dan suka bra nyaman untuk olahraga yang tidak terlalu banyak 'gejolak' bisa banget checkout produk satu ini. Dia ini tidak terlalu mengekang, mates. Jadi, nyaman juga untuk dipakai jalan.
3 Bawahan Ter-Favorit untuk Olahraga Low Impact
Motion Legging Full 24"
"Sudah pembelian kesekian kalinya, bahannya enak lentur pas dibadan" - s****a
Yang satu ini tidak perlu diragukan lagi. Produk paling ter-best seller miniletics. Pilihan warnanya paling banyak di antara produk lainnya: 15 varian warna, guys - tinggal pilih! Tim miniletics cuma mau saran satu aja, harus sat set untuk dapetin Motion Legging Full. Telat sedikit pasti akan kehabisan.
Motion Legging Capri 3/4 19"
"Wah ini leggingnya sih top banget 👍👍 bahannya tebal, halus, bikin nyaman dipake. Elastisitasnya juga bagus banget, biasa klo pake legging agak susah buat dipake. Tapi pake legging ini sih kaya pake celana biasa aja. Recomended deh pokoknya, dan akan repurchase sih." - y*****a
Ini bahannya sama dengan Motion Legging Full ya, mates. Mereka sama-sama lembut, nyaman, dan stretch. Bedanya ada di panjang dan pilihan warna. Kalau yang full sampai di atas mata kaki, yang capri ini jatuhnya beberapa senti di bawah lutut sampai separuh betis (tergantung panjang kaki kita).
Motion Shorts 10"
"Rekomendasi dari IGS Shiely Vanessa, ternyata jauh di Surabaya, pas nyampe nggak salah sih bagus, suka, dan pas." - 
r*******s

Buat yang lebih nyaman kalau pakai pendek - secara cepat pakainya, cepat lepasnya… Tim miniletics juga paham kok. Untuk tim anti ribet dan yang biasanya gampang kepanasan, ini pas buat kalian. Kuyy, langsung check out!

Ini 6 produk rekomendasi dari tim miniletics untuk kalian yang suka yoga, pilates dan sejenisnya. Kalau sudah punya inceran sendiri, langsung add to cart aja sekarang, guys. Semoga sukses check out produk yang kalian mau, ya. Happy shopping, mates! 
Artikel terkait:
FAQ Birthday Sale
Produk Wajib Checkout: Edisi Gym
Produk Wajib Checkout: Edisi Nongki