All About Miniletics
The Psychology of Colors Pt. 3: Warna Pengaruhi Mood Kita?
by Support Miniletics on Jan 24, 2022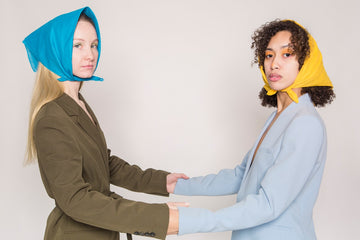 Di artikel sebelumnya minimin sudah sempat membahas 5 warna dan emosi serta mood apa yang diberikannya menurut psikologi warna. Nah, kali ini minimin akan kasih contekan 5 warna lagi sebagai tambahan insight kamu. 
Ungu

- wealth, royalty, mystery, and imagination
Dulu, ungu sangat melambangkan kekayaan karena nilai produksinya yang tinggi. Sekarang, warna ini dikaitkan dengan sesuatu yang misterius dan fantastik. Kenakan warna ungu saat kamu ingin merasa unik atau istimewa. Seperti merah, warna ini akan membuat kamu menonjol. 
Pink

- romance, kindness, calmness, and nurturing 
Karena pink merupakan campuran merah dan putih, warna ini dapat menggabungkan energi maskulin dan feminin, terlepas dari stereotip gender dan dilekatkan padanya. Kamu bisa mengenakan warna pink saat ingin merasa terhubung dengan sekitar. Segar dan menyenangkan adalah kesan yang diberikan saat kamu memakai warna ini, tapi bisa juga membawa kedalaman semakin lama kamu memakainya. Untuk memberikan kesan romantis, jangan lupa untuk memakai warna ini di saat kamu ingin merayakan acara romantis bersama pasanganmu ya, minimates. 
Coklat

-

nature, isolation, security, and strength 
Warna cokelat diasosiasikan dengan alam, sehingga somehow membawa rasa aman. Warna hangat ini terasa padat, seperti tanah di bawah kaki kita, tetapi bisa terasa muram atau "menjemukan" dalam jumlah besar. Kenakan warna cokelat saat kamu butuh ketenangan atau saat bersantai. Cokelat juga jadi warna sempurna jika kamu ingin menyatu dengan alam. Kamu juga bisa menggunakan cokelat sebagai dasar untuk membuat warna yang lebih berani menonjol.
Photo by Hannah Morgan on Unsplash
Hitam - mystery, boldness, power, and unhappiness 
Kamu bisa mengenakan baju warna hitam jika kamu ingin merasa kuat tanpa terlihat menonjol. Warna hitam tidak menunjukkan keangkuhan seperti warna merah, tapi tetap dengan mudah mengintimidasi orang lain. Warna ini akan sangat ideal untuk kamu gunakan jika kamu ingin dianggap serius atau dianggap sebagai seseorang yang memiliki otoritas di lingkungan kerja. 
Putih - peacefulness, cleanliness, innocence, and emptiness
Kenakan warna putih ketika kamu ingin merasa optimis. Putih menyiratkan kanvas kosong yang bisa diisi apapun yang kamu mau, jadi warna ini akan sangat bagus kamu gunakan di hari pertama kamu mencoba sebuah upaya baru. Warna ini juga memberikan kesan awal yang baru. 
Nah, itu tadi beberapa warna dan arti mereka untuk mendukung suasana hati yang ingin kamu ciptakan di tiap kesempatan. Untuk memperkaya warna-warna di dalam lemarimu, kamu bisa menambah koleksi produk miniletics yang memiliki beragam warna pilihan yang siap mewarnai hari-harimu. Cek katalognya di sini atau bisa langsung cek ke marketplace kesayangan kamu, ya!
Featured image by Michelle Leman from Pexels